INTERVIEW: Steve Aoki at Tomorrowland
Listen to Steve Aoki on iHeartRadio
Steve Aoki calls Tomorrowland an "electronic utopia," and anyone who's been to experienced the festival would agree. This year, Steve performed two sets, one of which on his label's very own Dim Mak stage, the other on the incredible main stage.
If you've ever seen Steve Aoki live before, it's a very memorable experience. Aside from the music his fans know and love, Steve knows how to entertain a crowd, with cake, champagne, and more.
We got to sit down with the cake-throwing champion before his main stage set, where he talked about the Dim Mak stage, his new album, everything you need to know about throwing a cake properly, and more. Check it out below:
What do you think of Tomorrowland?
Tomorrowland is my favorite festival in all the world. It's like, I guess I'm repeating myself when I say this cause I say this in all interviews, but it's by far the most diverse, multicultural, global, globally influential festival that I know about. More globally influential than multi-genre festivals out there that have the biggest bands in the world playing. It's just the spectrum that it shoots out to. In fact, I was on the Tomorrowland radio and they were like," Yeah yeah, this goes out to 50 million people." 50 million people?! Like this isn't commercial music, there's no Rihanna, there's no Lady Gaga, there's no Bieber, there's no like big pop artists here. It's like banging, techno, deep house, hardstyle, electro, I mean, that's what's so cool. We're doing our own thing, this is our like electronic utopia, and people care, like not just this festival, but millions of millions of people listening and watching.
What's been the highlight, you're on the main stage today, and you also performed the first day, so what's been the highlight for you so far?
I love running around, seeing people I haven't seen. That's the cool thing about festivals, you get to see your DJ friends you haven't seen in forever, and sometimes you only see them at festivals like this. The Dim Mak stage set was crazy. It was like a sixteen person b2b DJ set, so like everyone that was there with me played their hottest, latest new track or unreleased new Dim Mak track. So for the Dim Mak heads, all the kids there, people there that wanna hear what our sound is, it was like a gold mine of music because it was unreleased new s***. So to me my mouth was just watering, it was super super cool, involving everyone involved, it was cool. And this set tonight will be a proper Aoki set. I'm deputing like 9 new songs. From my album like eight or nine new songs, two new remixes I'm pulling out, so over half my set will be new material. And then I think I am gonna play a couple Dim Mak tracks but for the most part it's gonna be a proper like Steve Aoki experience. Music and show.
How does it feel for you to have a Dim Mak stage at Tomorrowland?
Yeah, it was pretty awesome. This is our third year that we've had a Dim Mak stage here, so like it's become family to us. I'm by far proud and honored and I can't believe we have a stage here. It's that and the people we work with here are really good people. I'm just glad that they get what we're doing and work with us. And they're so easy to work with, you know, they've like given us more than what we could use to create something special, [and] make a Dim Mak experience for people that come here.
They're bringing it over to the US with Tomorroworld, what do you think that's gonna be like?
I think that the frenzy to get tickets here, it was literally like winning a lottery ticket cause it was so hard to get in. It was like, I don't know millions of people trying to get into a festival that only holds like 100,000 people. So when I heard the U.S. sold out really quickly, I knew it was going to happen, it's just not like an ordinary festival. This is something, this raises the bar of what production [of] festivals should look like. What the experience overall should be. This is like, the ultimate festival experience.
Is there anything exciting coming from Dim Mak?
Yeah we just released "Michael Jordan" Carnage's new record. And we have new Dirtyphonics records like my remix for Dirtyphonics is coming out soon. We have new stuff from from Clockwork, there's a whole gamut of artists. We have a massive catalogue. Funk Agenda, Qulinez, Felix Cartal, like all our young guys and then we have some bigger names coming in and doing singles with us too. But all of it is catalogued and all of the information is up on dimmak.com
Are you excited about your album?
I wish I could release it right now. I mean it's not gonna come out for another year, but I am pre-debuting these songs mad early. I'm gonna be putting out singles literally throughout the whole year. "Boneless" is coming out in September finally.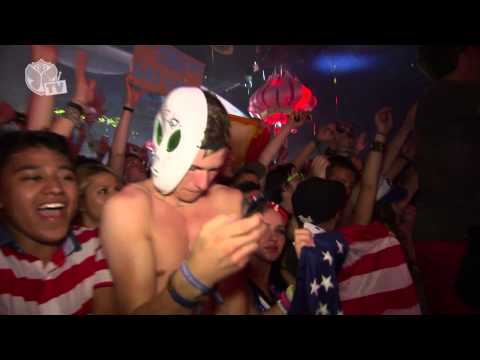 If you had your own land, what would you call it?
Well if it's the top of my head, I would just call it DimMakland.